Skip Bins Sunshine Coast
Have you seen a large, open-top Bin designed to be loaded onto a special type of truck? This is the Skip BIN . Instead of dumping your waste into a wheeled bin, we can remove the Skip or replace it with an empty bin and then placed in a landfill or waste station for proper handling of the waste
Generally, Skip bins are a longitudinal section, a lower trapezoid, and a longer edge at the top. There are usually two tiles on each side of the tank, to which the chains are attached, which allows lifting of a heavy container to the Lorries. A special truck or crane is used to transport the container.
In some Skip bins , one end sometimes has large doors that opens to allow manual loading and unloading. These skips Bins are called "foldable door Skip Bins". They are generally durable its design is to withstand the rough use of tradies and workers. The size of container containers can vary significantly depending on their use, ranging from small 2-yard Skip Bins to large 40-yard Skip Bin . Although these large Skip Bins can store many tons of waste, most trucks can only carry about 8 tons (8,000 kg) of material in a Skip Bin.
Whether you are renovating your factory, your workshop or doing a major cleaning, 7 Day Skips will deliver.
What are we doing with Skip Bins ?
We are a waste and junk collection company located on the Sunshine Coast and are dedicated to helping you meet your waste collection needs and eliminate this junk. We provide a variety of Skip Bins to cater to all your projects, including some with easy loading doors. Our Skip bins range from 2m³ for small site cleaning, up to 3m³, 4m³ and 6m³ for cleaning / refurbishing home / commercial equipment and up to 8m³ for buildings or for larger waste disposal. 7 Day Skips is a company run by its owners and has extensive experience in the waste sector, both as a mover and in waste management.
We provide waste management service when it matters. A Skip Bin delivery and waste management service is available to Sunshine Coast to customers 7 days a week, and skips Bins on time.
WHY rent a 7-day skip Bins ?
Competitive pricing on Skip Bins
The removal and disposal of your waste (GST included) is included in the price.
Reliable Skip Bins
We have the best delivery or the best collection system; we are on time and on demand. All waste is disposed of at our local Resource Recovery Centre, where it is disposed of and recycled appropriately.
Skip Bin Service
Skip Bins HIre & waste management
We have a friendly service system with experienced local operators. We are committed to meeting your waste collection needs. The strategic location of the garbage cans at the site served by the Sunshine Coast. We usually deliver budget breaks the next business day or as scheduled.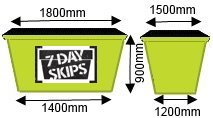 In conclusion, you won't need to worry about the petitioner going back and forth: we would organise a Skip Bin and save your money and precious time. We understand your needs and offer strong and friendly advice and services. Visit www.7dayskips.com.au